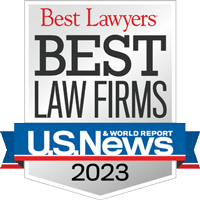 Practice Areas
Our lawyers help workers fight back against illegal discrimination. We understand that these issues can have a profound impact on a worker's career and personal life, and we are dedicated to helping our clients fight for their rights. Our attorneys have a deep understanding of the complex laws and regulations related to discrimination and retaliation, and we are committed to using that knowledge to achieve the best possible outcome for each of our clients.
There are state and federal laws that forbid employers from treating workers differently and less favorably because of race, color, national origin, religion, sex (including pregnancy), sexual orientation, gender identity, ancestry, place of birth, age, crime victim status, military service, genetic information, or disability. These reasons are called "protected classes". Discrimination is illegal at all stages of employment, from application through separation. The types of employment practices that are covered include hiring, pay, benefits, terms and conditions of employment, reduction in force, and termination.
"Harassment" or "hostile work environment" is a form of discrimination in the terms and conditions of employment. It is illegal if the mistreatment is sexual or based on sex, race, or some other protected class reason.  
When workers speak up and oppose unlawful acts in the workplace, some employers retaliate. For example, employees that are protected from retaliation for reporting sexual or racial harassment, opposing unlawful discrimination, complaining about illegal pay practices, or cooperating with an OSHA investigation. Employees are also protected from retaliation for exercising their right to request a reasonable accommodation, take family and medical leave, or file a complaint with the Vermont Human Rights Commission, the Civil Rights Unit, or EEOC. Our lawyers can help you determine if you engaged in a "protected activity" and if so, what legal remedy is available if your employer retaliates. 
At the Vermont Employee Rights Group, our knowledgeable employment discrimination lawyers can help you file suit under state and federal laws to recover compensation or obtain reinstatement as appropriate. Our attorneys have a proven track record of successfully litigating discrimination and retaliation cases, and we will use all of the tools at our disposal to ensure that our clients receive the compensation and justice they deserve.
Get in Touch
1

Over 60 Years of Experience

2

No Fee Unless You Win

3

Awarded for Client Satisfaction
Fill out the contact form or call us at
833.365.2929
to schedule your consultation.